Nebraska Heritage Turkeys

Nebraska's Favorite Thanksgiving Turkeys, From Our Family to Yours


Nebraska Heritage Turkeys has been bringing pasture raised turkeys to Nebraska's Thanksgiving dinner tables since 1999
At Nebraska Heritage we pride ourselves in raising healthy, happy turkeys and having healthy, happy customers too! We take seriously being good stewards of what we have, including both the turkeys and the land. We keep a breeding flock of heritage turkeys and hatch our own poults in the spring. From the brooder to the pasture to your Thanksgiving dinner table, we purpose to steward the young turkeys and the land they're raised on well and to produce an excellent product. We apply the basic principles of rotational grazing to our flock, doing what's best for the turkeys, for the land and for you!
---
Our Turkeys are: 
Non GMO 
Pasture Raised
Antibiotic Free
Rotationally Grazed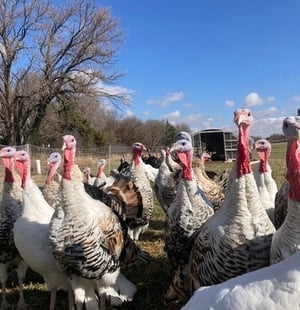 How it works:
If you have any questions about any of these steps, don't hesitate to call or text Leah at 402-380-0412
Step 1:

Place your reservation
Click on any "Shop" button to get started! Select the size turkey you want. We offer Small (7-11lbs), Medium (12-18lbs), and Large (20-25lbs). Add your turkey to your cart and create and activate an account to complete check out. Creating an account will enable you to go back and see what you've ordered at any time and will help you with arranging delivery later. There is a flat fee of $50 to place a reservation and this will be deducted from the final price of your turkey. You will receive a confirmation email when you have completed your reservation. 
Step 2:

Select your pick up location
In early November you will receive an email from us with an link to our site, inviting you to select your pick up location and enter your payment information for the final cost of your turkey. Select the same size turkey that you originally ordered when you placed your reservation. You can look back in your account to see what you ordered. Select your preferred delivery option and enter your payment information to be charged for the final cost of your turkey. You will see an approximate cost listed, but you will be charged for the exact weight. For example, the approximate cost for an average 9lb small heritage turkey is $76.50, however, your turkey might be 10.71lbs, in which case the final cost would be $91.04. Remember that your $50 reservation fee is deducted from this. So you will be charged $41.04 for your 10.71lb turkey. We offer convenient pick up locations in Omaha, Lincoln, Grand Island, West Point, and York.
Step 3:

Pick up your turkey
Mark your calendar and set a reminder on your phone! Meet us at your selected delivery location at the date and time indicated to pick up your turkey. If you have not already paid online, please bring payment. We accept cash, check, or card. Meet your farmer, visit, and take home your Thanksgiving turkey! 
Step 4:

Thaw, cook, and enjoy!
Your turkey will be delivered frozen, so make sure you take it out in time for it to thaw before your Thanksgiving celebration! We always follow Mom's rule of thumb and give 24 hours to thaw for every 5lbs of turkey. A 20lb turkey can take a full 4 days to thaw! Cook it your favorite way and enjoy! Click here to read about how our family cooks our Thanksgiving turkey. Do you post pictures of your turkey on social media? Tag us! We'd love to see how it turned out! We're on Instagram at ne_heritage_turkeys and on Facebook as Prairie Oaks Nebraska.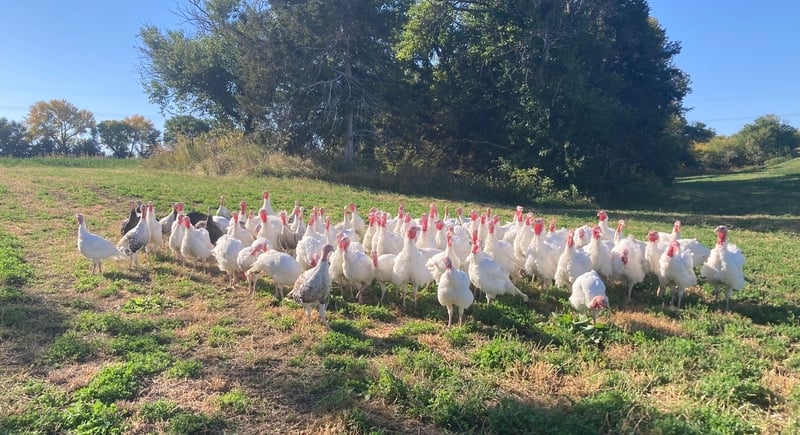 ---